Lakeport & Woodland Hills, CA Personal Injury Lawyers
Injured in an accident? At G. Aldrich Law, we care about the next steps you're facing and the legal concerns that are weighing on you. We'll talk you through your options and fight for your best outcome.
Meet the Team
George Aldrich
PRINCIPAL ATTORNEY
As the founder of G. Aldrich Law, attorney George Aldrich is the fearless leader of this firm. Since 2008, he has been serving the legal communities of California. As an army veteran and former salesman turned lawyer, he has a unique background that informs every case he takes on.
Matt Zavala
OF COUNSEL ATTORNEY
With his expertise, Matt provides exceptional counsel to clients of every kind. He strives to litigate all cases with integrity and the utmost professionalism. With Matt Zavala on our side, our clients can expect both compassion and aggressive representation.
What to do After an Accident
Seek immediate medical attention.
Even if your injuries appear to be minor, it's vital that you seek professional medical attention as soon as possible to ensure you don't have any internal injuries to worry about.
Document everything you can.
Getting the other driver's information might be a no-brainer, but there are other things you can do too. File a police report and take photos to help recall the details of the incident.
Don't speak to insurance adjusters without an attorney present.
It's the job of an insurance adjuster to minimize their company's liability as much as possible. They are skilled listeners that can use what you say against you.
Call our office immediately.
Don't wait to get an experienced legal advocate on your side. Call the personal injury lawyers at G. Aldrich Law to work with trusted attorneys who want to help you focus on recovering.
Fighting insurance companies on your own can be tough. That's why we've got your back at every turn.
After being injured in a car accident, the last thing you want to do is fight with your insurance company. With personal injury cases, the cards are usually stacked against the person that gets hurt. Even when dealing with their own insurance company! You need someone who is not afraid to stand up to the insurance company and fight for the fair amount of compensation you deserve. At G. Aldrich Law, we understand how the judicial system can be unfair. No matter what you're up against, we're here to help your case get the best possible outcome.
Case Results
Cesario v. Ultima Management Inc.
$835,000.00
People v. Jane Doe
Dismissed
People v. Doe
Dismissed on the first day of trial
At G. Aldrich Law, we want every single one of our clients to feel heard and represented. We believe in the value your case has and will fight for what you deserve. Here, you will find examples of how we have helped past clients.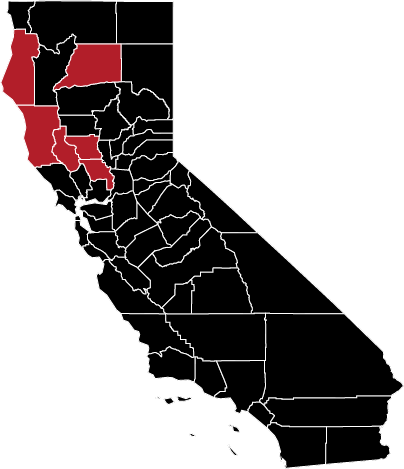 Proud to Serve Northern and Southern California
Lake County
Located in the north-central part of California, Lake County is home to one of our office locations. Visit us in Lakeport!
Colusa County
You can find Colusa County in California's Central Valley just slightly northwest of our great state capital, Sacramento
Surrounding Northern California Counties
We have also represented clients in these Northern counties: Shasta, Mendocino, Humboldt, Yolo, Tehama, Glenn, and Butte.
Los Angeles County
The County of Los Angeles is the most populous county in the United States, with more than 10 million residents.
Riverside County
Surprisingly, Riverside County is the 4th-most populous county in CA and the 11th-most in the United States.
Surrounding Southern California Counties
From our conveniently-located Woodland Hills office, we've been able to help clients from Ventura County to San Bernardino counties.
If we can't win your case, you won't owe us a dime.
With the overwhelming stress that comes after suffering injuries from a serious accident, it can be hard to know who to trust and how to navigate the legal processes of filing a claim for compensation. What do you need to legally proceed? Finding the right legal team to take your case and manage it seriously is an extremely important step in moving forward.
At G. Aldrich Law, we strive to take the legal burdens off your plate so you can focus on what matters most: your recovery. You don't have to suffer alone because you think an attorney is unaffordable.
We utilize contingency-based fees for our services, meaning you only pay us a small percentage of what we are able to win for your case. We put in the risk in for you, because we believe in your case. If we didn't believe in it, we wouldn't take it. As our client, we will work hard to secure the best possible outcome for you.
With our firm, you can rely on our experience and commitment to exploring all avenues for resolution. We are not afraid to take your case to court if that's what it takes. Call us for a free consultation, and discover for yourself how we can take care of your legal needs.